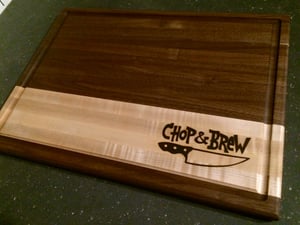 $

35.00 - On Sale
Cutting board hand-made by Twin Cities homebrewer/woodworker Tyler Ostlund from maple and black walnut wood. Fire-branded with Chop & Brew Knife Logo brand created by Gearheart Industry (gearheartindustry.com). Comes with maintenance and care suggestions. Board dimensions: 15 inch x 11 inch X 3/4inch.
***Our helpful woodworking else Tyler is back in Santa's workshop this weekend to make a few more Chop & Brew Cutting Boards for last-minute orders. We will have four available. If you order this weekend, we will get it out first thing Tuesday AM (12/20/16) Priority Mail, which should make it anywhere in the U.S. before Friday/Saturday in time for Christmas.***
International orders available upon request. For more information, please contact Chop & Brew via Contact page to the right of the store page.